This year Warrior Robotix has submitted five submissions to REC Online Challenges. Our club members have put in a lot of hard work and effort into each one of our submissions. If you like our submissions, please support us by voting for our submissions at challenges.robotevents.com.
Helical Gear Set - Make It Real CAD Engineering Challenge, Sponsored by Autodesk ®
Unfortunately, it is not uncommon for the teeth of VEX spur gears to break under high loads. Even the high strength gears have been known to crack under pressure.
With our new gear set, teams will be able to build gearboxes that can handle heavier loads than ever before. Our new gear set contains helical gears. Helical gears have slanted teeth.
This key feature gives helical gears many advantages over spur gears:
Helical gears have higher torque capacity than spur gears
Helical gears have less vibration that spur gears
Helical gears can transfer power between non parallel shafts
It is no wonder that helical gears are the ideal choice in industry applications.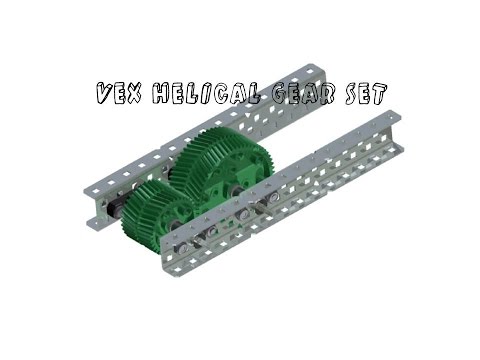 Improved Linear Actuator - Make It Real CAD Engineering Challenge, Sponsored by Autodesk ®
A linear actuator provides movement in a straight line. This mechanism offers unlimited possibilities in robotics engineering.
With the addition of two simple parts, students can easily make powerful and versatile linear actuators. Our linear actuator design offers an enormous amount of torque and can be simply modified for many different sizes and situations. The new parts integrate well with the VEX Robotics Inventory.
How To Effectively Plan Out Your VEX Robot - RECF STEM Educational Video
This video is jam-packed with facts and clear descriptions on how to plan out a VEX robot. Included in this video is the following:
5 steps on planning out a succesful robot
Detailed explanation on the 5 steps to give you a clear idea of what to do
Collaboration - VEX Robotics Photography Challenge
In this photograph you will see team members effectively collabortating on their robot.
4659 Warrior Robotix Website (The website you are browsing right now) - EMC Robotics Team/Club Website Challenge
At Warrior Robotix, we believe in doing everything by ourselves, that is why we built the website from ground up using Ruby On Rails, HTML, SASS, and Javascript. We applied modern web design principles to let the user get the best experience possible. With minimal clutter, and simple navigation, users can find their way around the website effortlessly. We incorporated Google's material design framework to ensure that the website is compatible with all different platforms, from phones to tablets to laptops and desktops. The website has been developed to be fully dynamic, so that admins can easily update the content without having to touch the code. There are also many internal features accessible to only club members, such as attendance, posts, polls, and much more. Members can easily keep track of their own attendance, and stay up to date with all the latest news, and updates. There are also many admin features that allow us to keep track of members, and stay in contact with them. We hope that the website pleases our viewers and allows them to learn more about our club and how we demonstrate STEM education.
Saturday, January 16, 2016 @ 4:17 PM - to Everyone